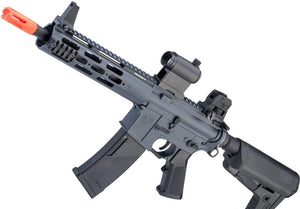 SPECIFICATIONS
OPERATION: ELECTRIC AUTOMATIC
BUILD: METAL/ALUMINUM ALLOY RECEIVER
FIRING MODES: SEMI-AUTOMATIC, FULL-AUTOMATIC, W/ FUNCTIONING SAFETY
MUZZLE VELOCITY: 310 FPS
GEARBOX: VERSION 2
MAGAZINE: 350 RD
BATTERY: NUNCHUCK STYLE/LITHIUM POLYMER BRICK
INNER BARREL: 280MM (6.05MM DIAMETER)
HOP-UP: ADJUSTABLE ROTARY
WEIGHT: 5.24 LBS
OVERALL LENGTH: 28" - 31.3"
PACKAGE INCLUDES: 1X ALPHA CRB AEG, 1X MAGAZINE, 1X FRONT SIGHT, 1X REAR SIGHT, 1X SHORT KEYMOD RAIL SEGMENT, 1X USER MANUAL, 1X CLEANING ROD
COLOR: BLACK
FEATURES
10" FREE FLOATING ALPHA RAIL SYSTEM FOR RIFLE ATTACHMENTS.
FULL METAL AR DESIGN FOR TOUCH AND PERFORMANCE.
AMBIDEXTROUS FIRE SELECTOR FOR ALL SHOOTERS.
15 SETTING ADJUSTMENT KRYTAC ROTARY HOP-UP TO REFINE PRECISION.
KRYTAC ADJUSTABLE BATTERY STOCK FEATURES TWO DIFFERENT BATTERY CONFIGURATIONS.
REINFORCED 8MM BALL BEARING GEARBOX TO ENSURE FULL PROFICIENCY.
INTEGRATED MOSFET REGULATES ELECTRONIC SIGNALS AND PROTECTS TRIGGER CONTACTS.
FEATURES 2 QD SLING SWIVEL DIVOTS FOR STRAP TYPE SLING ATTACHMENTS.
SMALL WINDOW IN GEARBOX TO EASILY ALLOW DIRECT LUBRICATION TO THE GEARS OR PISTON.
MODULAR SPRING GUIDE DESIGNED FOR QUICK SPRING CHANGE SYSTEM.
PADDED, DURABLE, LIGHTWEIGHT KRYTAC PISTON BUILT IN, WITH ABSENT 2ND TOOTH FOR FINE TUNING.
KRYTAC PERFORMANCE MOTOR IS CAPABLE OF 20,000 RPM UNLOADED.