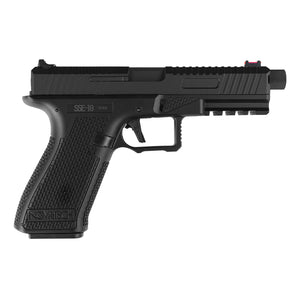 *****STORE PICKUP ONLY - SHIPPING NOT AVAILABLE*****
Electric Pistols have one big advantage over Gas Blowback Pistols: they work no matter what.
The SSE18 combines the sharp design of the SSP18 with the LiPo battery powered system inside. The result is great accuracy, durability and Full Auto, even in the coldest winter months.
Features:
Full Auto/Semi
Quiet with the suppressor attached
Adjustable Hop Up
High rate of fire thanks to the powerful 500mAh LiPo battery, MOSFET & Ball Bearings
Rapid trigger response thanks to the improved MOSFET.
Improved BB retention with upgraded extended magazines.
Metal Slide for more realism and durability.
Ready to go: Battery, charger, magazine, speedloader included
Threaded Barrel for suppressors / tracer units
Fibre optic sight, Flat trigger, Picatinny/NATO Rail
Optional RMR Mount
Beaver tail, stippling, and trigger undercuts for superior grip
Fits in most Glock holsters
Extensive **video library** with courses and guides
Designed by passionate Airsoft players in Vienna, Austria
Vienna-based Tech support team
Energy: <0.5 Joule / ~220 FPS with 0.20g BBs
Weight: 488g / 1.07lb
Recommended BBs: 0.20g (for CQB), 0.25g (for woodland)