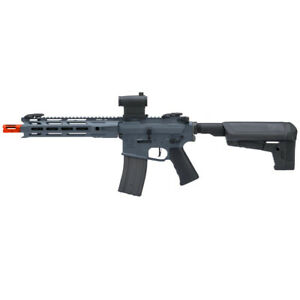 Billet Style Receiver
Billet style receivers provide modern design while providing additional strength and durability. The MKII receivers were redesigned with enhancements such as an enlarged trigger guard for gloved hands and an flared magwell for faster reloading.
CRB Front End
The KRYTAC Trident MK2-M CRB's come equipped with the TR210 M-LOK rail system licensed by DEFIANCE. Its slim profile is comfortable in your hands and modularity allows for attachment of rail sections for the addition of your favorite accessories.
Battery Stock
A 6 position adjustable stock allows the rifle to adapt to your preferences. The large cavity in the stock provides ample space for storage and with the extended butt pad it can accommodate a wide variety of batteries.
DEFIANCE Pistol Grip
The licensed DEFIANCE Pistol grip provides a comfortable grip with a modern and sleek design that compliments the overall look of the rifle.
Specifications
Brand: Krytac
Operation: Automatic Electric
Material: Metal Upper and Lower Receivers, Handguard, Buffer Tube / Polymer Stock, Motor Grip
Muzzle Velocity: 365 - 385 FPS (w/ 0.20g BBs)
Magazine Capacity: 300rd High Capacity (gear wind-up)
Gearbox: Full Metal Version 2
Battery: 9.6V Nunchuck
Inner Barrel Length: 280 mm
Length: 10.75"
Height: 7"
Weight: 5.5 lbs
Color: Combat Grey
Package Includes: 1X Rifle, 1X Magazine

Battery, Charger and Optic NOT INCLUDED
Features
Full metal billet style receivers provides modern design and additional strength
Official Krtac trademarks stamped on magwell
Licensed Defiance M-LOK rail system offers slim profile
8mm bearing Nautilus Gearbox gearbox with MOSFET ensures longevity
Ambidextrous fire selector and functional locking bolt release
Licensed Defiance motor/pistol grip and stock with flat trigger
Quick-change spring system allows users to adjust FPS without taking gearbox apart