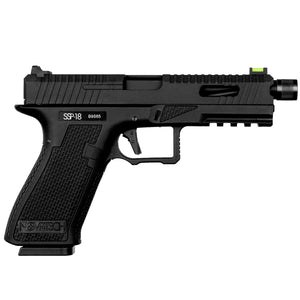 *****STORE PICKUP ONLY - SHIPPING NOT AVAILABLE*****
The SSP18 is a pistol that has everything. Amazing design, supreme accuracy, durability, and Full Auto in one package. Look no further. This is it.
Features:
Switchable Semi / Full Auto at 17 rounds per second.
Designed to shoot heavy BBs – 0.32g recommended.
Supreme accuracy with O-ring stabilized and extended 6.01 precision barrel (115mm).
Smooth action with FXB Fixed and non-dropping outer barrel.
Durable trigger internals with large contact surfaces for CO2 and strong gas.
Threaded barrel for suppressors/tracer units.
Fast Target acquisition with Fiber optic sight.
Gas efficient lightweight cutout slide.
Picatinny/NATO rail for pistol flashlights.
Flat trigger with a realistic feel.
Enlarged slide stop and controls.
Extended beavertail, stippling, and dual trigger undercut for superior grip.
Comes in a gun case with a valve tool.
Designed by passionate Airsoft players in Vienna, Austria.
Vienna-based Tech support team.
Energy: ~1 Joule / ~320 fps with 0.2g BBs
Weight: 450g / 1lbs (without Magazine)