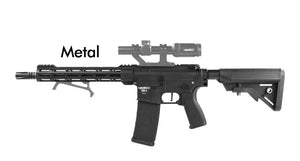 *****STORE PICKUP ONLY - SHIPPING NOT AVAILABLE*****
The SSR4 combines everything you'll need from the very beginning of your airsoft journey until the advanced stages. It is the universal tool for whatever airsoft throws at you! Woodland or CQB, you can easily shine in all those situations thanks to durable, high-performance internals and modular externals.
SSR4 Features
Programmable Electronic Trigger Unit (includes burst, binary, pre-cocking, battery protection, etc.)
∼22 rounds per second with high-speed CNC gears (16:1) and an 11.1V battery (recommended).
2 Variants to fit your style: Realistic full-metal body & Lightweight reinforced polymer body (same internals).
25 Years Novritsch spare part warranty. 
Power: 1.5 Joules / ~400 FPS
M-LOK Handguard and a top Picatinny rail for accessories.
Accurate due to a 6.03 precision barrel with a rotary Hop-Up unit.
Modern Flat Trigger.
Quick Spring Exchange System for easy performance adjustments.
QD sling mounts for carrying.
Comfortable hold with a Modern beavertail Pistol Grip.
Advanced internal parts.
Rigid T-Dean battery connectors.
Comes in a reusable foam-lined cardboard box, perfect for transport.
Designed by passionate Airsofters in Vienna, Austria.
Vienna-based Tech support team (actual airsoft players)
Length: 29 x 9.4 inches Weight (Metal): 5.29 lbs Weight (Polymer): 5.07 lbs
We recommend using 0.28g BBs & 11.1V LiPo Battery.
Note: The battery is not included. 

Note: Do not store with pre-cocking engaged. Pre-cocking is disabled on full auto – just shoot on auto at the end of the game to release the spring.