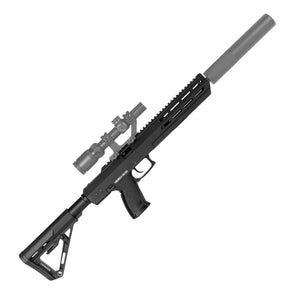 *****STORE PICKUP ONLY - SHIPPING NOT AVAILABLE*****
The SSX303 is the quietest Airsoft rifle ever. It is also the most universal platform which allows you to use it as a sniper rifle, assault rifle, or CQB gun. You choose what it will become!
Features:
Sniper-like accuracy. Designed to shoot heavy BBs.
Semi-Automatic.
Very quiet.
Lightweight Full CNC aluminum body. 3.6lb total weight.
No-tool Hop-Up adjustment.
Muzzle energy of 1.7J – 2.5J (380 – 450 fps at 0.2g)  depending on °F and Gas.
Adjustable power. 1J – 2.5J (280-450fps at 0.2g) with aftermarket nozzle set.
Works in low temperatures.
Compatible with SSX23 Magazines.
MLOK, standard 14mm CCW thread for suppressors.
Adjustable length. 25.2″-28.3″
Complete rifle out of the box. Not a conversion kit.
Designed by passionate Airsoft players in Vienna, Austria.
Vienna-based Tech support team.
The rifle comes in a black cardboard box. Not in a gun case.
Follow this chart to make sure your magazines will last for a long time and to get the best performance out of your SSX-303:
| | | | |
| --- | --- | --- | --- |
| Temp. | Ideal Gas | <1.5J | >1.5J |
| <41°F | not recommended | | |
| 41°F to 50°F | Super High Pressure | 0.32g BBs | 0.46g BBs |
| 51°F to 68°F | High Pressure | 0.32g BBs | 0.46g BBs |
| 69°F to 77°F | Medium Pressure | 0.32g BBs | 0.46g BBs |
| >77°F | Low Pressure | 0.32g BBs | 0.46g BBs |